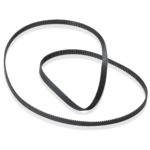 Timing belt for NEJE master 2s laser engraver
Sale!
Timing belt for NEJE master 2s laser engraver
-34%
Timing belt for NEJE master 2s laser engraver
SKU:NEJE00102
Timing belt for NEJE master 2s
WHERE CAN WE DELIVER THE PACKAGE TO?
We can ship to most countries in the world.
Countries not shipped to include: South Sudan, Palestine.
Click the button on the website of each product then you can see if this product can be delivered to that destination country.
Our goal is to offer you the best shipping options, no matter where you live. We deliver to hundreds of customers across the world every day, and we strive to provide you with services of the highest level.
WHAT SHIPPING METHODS ARE OFFERED, AND WHAT ARE THE RESPECTIVE SHIPPING TIMES?
We have 4 different shipping methods: unregistered, registered, priority line, and expedited shipping.
In addition, the standard shipping can reach the majority of countries, while the priority line can reach most of the main countries, below are the estimated shipping times (Hong Kong and our Warehouses).
China Warehouse:
Shipping Type
Country or Region
Arrive within 1-7 Days
Arrive within 8-15 Days
Arrive within 16-30 Days
Arrive within 31-45 Days
Average Time (Days)
Unregistered Air Mail or Registered Air Mail
United States
0.52%
44.87%
49.88%
3.5%
18.13
Spain, United Kingdom, Italy, Germany, France & Portugal
5.18%
43.44%
48.34%
1.17%
15
Netherlands, Greece, Poland, Hungary, Slovakia, Czech Republic
2.96%
40.34%
52.54%
3.74%
18.66
Russia
0%
4.45%
84.41%
11.1%
28
Japan, Korea
0%
21.30%
68.80%
9.66%
17.75
Brazil
0%
0%
23.91%
72.09%
38.6
Turkey
0.06%
37.75%
59.05%
3.1%
20.33
Thailand, Singapore & Malaysia
0%
40.39%
56.12%
2.6%
16.2
Other countries
0.7%
38.79%
47.94%
8.56%
23.57
Priority Line
United States
12.28%
79.05%
7.4%
0.52%
11.75
Spain, United Kingdom, Italy, Germany, France & Portugal
8.44%
66.56%
23.45%
0.45%
13.55
Russia
0%
3.48%
75.79%
20.04%
31
Brazil
2.21%
6%
61.29%
25.46%
30
Turkey
20.42%
77%
3%
0.08%
10
Australia
7.67%
86.60%
5.68%
0%
11
Korea
97.54%
1.57%
0.89%
0%
7
Japan
95.80%
2.09%
0%
0%
6.84
Thailand, Singapore & Malaysia
58.96%
41.04%
0%
0%
8.45
Other countries
22.33%
30.8%
27.62%
17.64%
18.65
Expedited Shipping
ALL countries(EMS)
3.8%
46.8%
26%
15%
14.8
ALL countries(DHL)
65.8%
25.75%
3.86%
0.37%
6.72

PL Warehouse:

 Typically 3-5 days to the DE, 3-7 days to other European countries.

USA Warehouse:

Generally, 3-7 days to a USA address.

ES Warehouse:

Generally, 2-5 days to the Spain, 3-7 days to the Portugal.
Shipping from warehouse nearest to shipping address is faster. Additional charges may apply.

Note:

The above shipping time are calculated by using calendar days. This is a general guide and delays maybe caused force majeure, natural disasters, inclement weather, war, public holidays, and factors outside our control.
WHAT DOES THE SHIPPING COST?
We Provide free shipping on all orders.
ABOUT CUSTOMS TAX
Taxes may apply for imported goods/services and are regulated by the country's law. neje.us is not responsible for any tax invoice charged on its products. Shipping rates are estimates and may depend on different policies and tax rates applied per country. Please contact local customs for clarity and information.
FAQS ABOUT COVID-19
As COVID-19 continues to affect our day-to-day life, online retailers have an increasingly important role to play. We're acutely aware of our responsibilities and we're doing everything we can to ensure you get the items.
At NEJE.us, we hope you remain safe and healthy during this outbreak. It is our duty to offer a satisfying shopping experience for all of our valued customers as always. Light is at the end of the tunnel, so let's stay strong and patient during these special times. NEJE team will be still here to do our best to support you.
The following are FAQs for order and delivery that customers care about during the coronavirus epidemic.
Q1. WILL MY PACKAGE BE DELIVERED?
Of course, will, NEJE's activities are currently continuing. However, delivery times may be longer than usual and our selection of items available for international shipping may be temporarily reduced.
Q2. HOW LONG DOES IT TAKE TO SHIP MY PACKAGE?
The delivery time of the goods is determined by the product and the delivery area. Due to the impact of the epidemic, the overall shipping time has been delayed to varying degrees than before. You can find updated delivery times on the product detail page for each item. We will do our best to deliver your items as soon as possible and notify you by email. Our local warehouses stock goods are delivered faster.